Cindy Alvin, Staff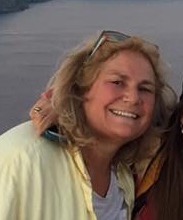 Years in clay: 17- I took my first class at The Potters Shop in 2000.
Why clay: Because the opportunities are never-ending. How amazing to take part in a craft that has been around for 1000's of years. Is it possible to make something new and unique? Yes indeed!
Where did you learn: First messed around with clay in high school where we listened to CSN.
Favorite part of clay: Singing and creating
Least favorite: Having an idea in mind, then struggling with getting the glaze results that I envision.
When I'm not in the studio: I'm making some other kind of art repurposing old stuff. I'm a big Sox and Pats fan, and I like to go antiquing and drive around roads less travelled.
What has clay taught me: Patience and flexibility.
Goal as a potter for yourself and for your work: To find an amazing crystalline glaze, and to always enjoy what I'm making.
Favorite potters and why: Fulper Pottery-crazy glazes and forms., California pottery and tiles from the 1920's, old English majolica, old tiles from Spain, early Mexican.
Favorite clay quote: For once I'm speechless.