Adult Pottery Classes
We are the only studio in Needham, Massachusetts to teach adult pottery lessons so sign up for one of our classes and get muddy!
Our adult classes are open to those 18 years of age and older. The class size is limited to 8. Our beginning to advanced classes are open to all levels, and though focused on wheel throwing, people interested in pursuing hand building and sculpture are welcome! Our advanced throwing class is strictly limited to those with developed and advanced throwing skills. A conversation with one of our teachers is required prior to being accepted into the class. Please call the studio for more information.
Classes are tailored to the needs and interests of each individual student. All of our classes encourage you to progress at your own pace and assure the personal attention you will need to continue to grow. Our teachers are also experienced in hand building and sculptural methods.
The class fee includes materials, a $25 administration fee, and additional studio time. Firing charges are not included with tuition, but students receive a discounted rate. These fees are nominal and based on only what you decide to finish and fire and will vary from student to student. Our classes meet once a week for 2 hours. In addition to class time, students are welcome to 5 hours of free practice time per week during regular business hours that are kept up to date on the front page of our website. Additional studio time beyond 5 hours a week will be charged at a rate of $5 per hour. Please be a good citizen and log your hours on the sign in sheet.
We also offer private lessons for those looking for one-on-one individual instruction and coaching. Private lessons are available only to those with solid intermediate-advanced clay working skills or higher, and are scheduled at times convenient to both the student and teacher. They may be a single coaching session or a series of meetings over a period of weeks. The fee for private lessons is $65/hour, materials included, firing charges are additional as described above. Private lessons also make you eligible for special Potters School Student rates on studio membership if a minimum of four private classes are scheduled.
For those enrolled in our classes who want additional or more flexible studio access than described above, we offer special Potters School Student rates on our studio memberships:
Unlimited Access Resident Membership: $415 quarterly (regularly $575)
Limited Access Resident Membership: $315 quarterly (regularly $425)
Please see our Membership page for complete details on each category of membership.
The Potters School shares space with The Potters Shop and its members. As a current student, you are welcome to use the same tools and equipment, while enjoying other benefits (please see below).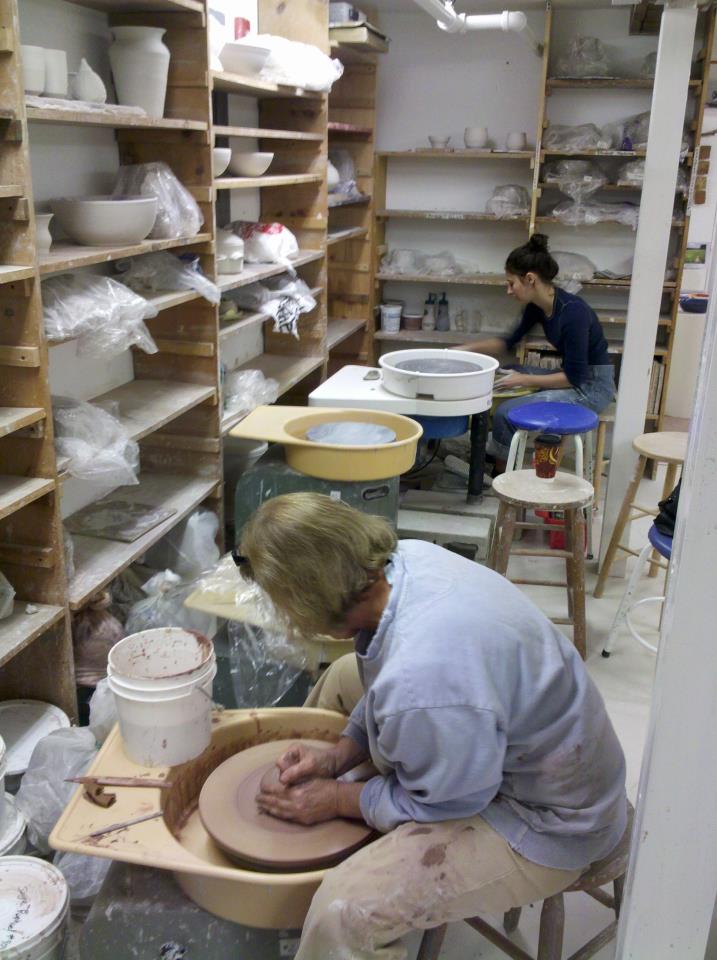 Public registration is currently closed.
The Tuesday class was already full for the Fall II Session,
and the two available spots in the Thursday class have now been taken.
In order to be notified of our class schedule and
have the opportunity to register for a class
as soon as we open
registration to the public, you must join our Class Interest List.
See the lower left hand column on this page for details.
Please keep in mind that these are full, 8-student classes.
Masking in the studio is
now optional until further notice
.
Class Schedule
Fall II Session 2022


Beginner to Advanced Throwing
Tuesdays 7-9PM

November 1st - December 13th
(no class November 22nd)
Beginner to Advanced Throwing
November 3rd - December 15th

(no class November 24th)
6 weeks / $330 tuition

*************
Master Class with Steven Branfman
10/27/22 Update:
Because this class runs through December 9th,
we are not currently admitting new students.
Please check back for updates to the website in December. In the meantime, feel free to contact the studio for more information.
Steven has reprised his Master Class that he taught this past year.
Join Potters Shop & School Founder and Director Steven Branfman for a master class in throwing!
The Master Class will follow an advanced, professional format over the course of a twelve-week session. Your reserved class time is:
September 16th - December 9th
(no class Nov. 11th)
12 weeks / $660
70 hours of studio time in addition to your reserved class time is included. Additional studio access is available via student membership (see above).
Steven will meet with you monthly on the following dates:
9/16, 10/7, 11/4, 12/9
Steven will occasionally be present other Fridays.
He will demonstrate for the group and work with each student individually. Occasional class projects/assignments will be presented. Evaluation and critiques will be followed up with specific assignments for each student that will be reviewed during the subsequent class. A Raku firing will be done during the 11/4 meeting. More details will be given at the first class.
This Master Class is strictly limited to those with developed and advanced throwing skills.
A conversation with one of our teachers is required prior to being accepted into the class.
Due to this requirement, we will not use SignUpGenius for registration in this class. Please contact the studio for more information.
Class Sign Up and Reservation
Classes are limited to 8 students. Current students have registration priority for the next session before it is open to the public. We do not have a waiting list and do not hold spots. We DO have a class interest list. After the current student re-enrollment period is over we send out an email to the class interest list informing the public of open enrollment. The class fee must be paid in full in order to reserve your space. Class fees may be paid in cash, check, or via PayPal to pottersschool@aol.com
Let us know if you have any questions or would like to be added to the Class Interest List to receive info on future class scheduling.
781-449-7687 pottersschool@aol.com
Refunds If you choose to cancel your reservation prior to the start of the session, a full refund less the $25 administration fee will be given only if The Potters School can fill your spot. Class fees are not transferable to subsequent sessions.
Other Student Benefits - as a currently enrolled student we hope that you will take advantage of the benefits that the studio has to offer:
Use of the lending library
Gallery participation eligibility
Student membership firing rates
Attendance at membership-only demos and workshops
Member discount on visiting artist workshops
Participation in member-only raku firings
Make Up Classes Classes canceled due to weather by The Potters School for any reason will be rescheduled. There are no other make up classes available.