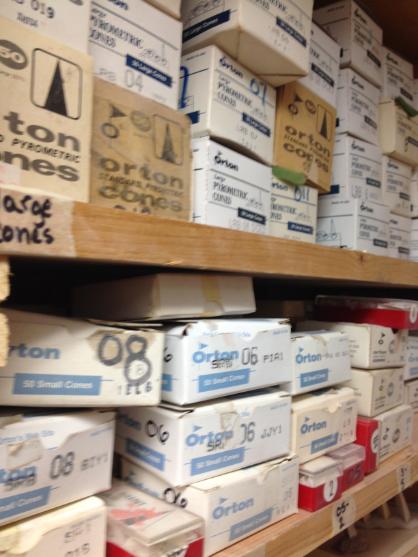 You do not have to be a member of the Potters Shop & School to fire your work here. Our firing services are available for outside groups and individuals. However, membership does have its benefits and firing fees are about 50% of the non-member rate. Check out the non-resident membership, you will be pleasantly surprised!
Some guidelines we follow for the safety of your work and our kilns:
Make sure that no pieces have pockets of trapped air.
All greenware (unfired work) must be completely bone dry.
No walls or solid components should be thicker than your thumb.
All glazed pots must have the bottoms thoroughly wiped clean and free of glaze.
Our kilns range in size from .5 to 10.3 cubic feet and fire to cone 10. All of our kin are computerized except for our two test kiln which have kiln sitters. Firing fees are based on an hourly rate/kiln regardless of cone. See below for firing fees. If you have other questions regarding firing or our kilns, please call or email us.
Studio glazes are included in the firing fee. Please contact us to make an appointment. Bring in your pieces to be fired and be sure to know the firing cone of your clay and your glaze if you are using your own. If you are unsure of this, please bring the box your clay came in and the specification of your glazes.
The studio also does monthly Raku firings that are open to studio members only. Please see our Membership page for the details of studio membership.
Kiln Firing Fees
Note on fees:
-The hourly rate applies to the cost of the entire load.. This cost is shared among those who have work in the kiln on a percentage basis. based on how much space your work occupies. e.g.; 10%, 25%, 50%, etc.
-The member rate requires that the individual loads, programs, unloads, cleans the shelves and thoroughly cleans and vacuums the kiln after use.
-Members who reserve a kiln for a solo firing and for whom the staff loads, fires, unloads and cleans the kiln will be charged a 15% surcharge on top of the member firing fee. This must be arranged with the staff prior to reserving a kiln. The exception is that members work that is loaded into a kiln to fill available space will be charged the member fee.
-Work left for firing by anyone who has not reserved a kiln will be fit into existing firings.
Partial loads and individual pieces may be fired either by filling in your firing with other peoples work or by others filling in available space in their firing. Charges are based on the percentage of space taken up in the kiln.
Note
: The only way to guarantee the timely firing of your work is to reserve a kiln and be responsible for the firing. This option is only available to studio members.
Kiln Members Students Currently Enrolled In Class Non-Members

Kiln #1; L&L E23-T, 7 cu' $10.50/hour $15.00/hour $19.50/hour
Kiln #2: L&L 2927-10.3 cu' 12.50/hour 17.50/hour 22.00/hour.
Kiln #3: Skutt KM 818-2.6 cu" 6.25/hour 11.00/hour 15.00/hour
Kiln#4: Test Kiln .5 cu' 3.00/hour 3.50/hour 4.50/hour
Kiln #4A;Test Kiln .6 cu' 3.50/hour 4.25/hour 5.25/hour
Kiln #5: L&L E23 T3
10.50/hour 15.00/hour 19.50/hour
Typical firing times Your firing time depends on the kiln, size of work, stacking, firing program
Cone 08 bisque; 6-10 hours
Cone 6 glaze: 9-14 hours
Raku Firing
Raku firing is available exclusively to Potters Shop & School Studio Members during our monthly Member Raku workshops, and scheduled workshops for outside groups. Firing fees are shared and are determined by the amount of space each person's work occupies in the kiln for a given firing load.
Large Kiln, Approx 6 cu' $80
Small Kiln, Approx 3 cu'-$60