The Potters School hosts a variety of workshops throughout the year. Workshops are presented by visiting artists as well as our staff, studio members and potters enrolled in our Internship and Residency Programs.
Recent Visiting Artist Workshops have included:
Exploring Naked Raku with Wally Asselberghs and Sue Morse

Light and Energy: Porcelain Secrets with Monika Armbruster

Throwing and Handbuilding with Leo van de Heyden and Domi Gruszecka

Workshop manipulation & building with slabs Lisa Floryshak



Raku Workshops
The studio holds monthly studio member only Raku firings throughout the year. Raku workshops can also be scheduled for your group, studio, guild, school, co-op, etc. See the description below. Our Raku facilities include 6 propane fired kilns of various sizes in a spacious firing area complete with all equipment, materials, and supplies. We can host up to 12 participants.
Raku Workshops are led by our experienced staff and consist of a supervised glazing and firing session. Glazing instruction includes an explanation and description of the available glazes, application, and various expected results. Firing instruction includes information on basic kiln theory, loading, firing in oxidation versus reduction atmospheres, and basic post-firing techniques. Due to the limited amount of time available and the often wide-ranging experience
of participants, we will not cover advanced techniques or complicated individual approaches.
Workshops are limited to 12 participants. Each workshop consists of 1 hour of glazing and approximately 5 hours of firing. Two
kilns, each with approx 18"Hx 23"W stacking dimensions, will be fired simultaneously for approximately 6 total kiln loads. To maximize the number of pieces fired, we encourage cylindrical shapes and discourage plates and wide bowls, Plates can be fired but they will be fired set on their edge which can cause warping. We will fire as many pots as possible, but there is no guarantee that everything will be fired. It's better to bring more work than less.
All participants must come prepared for a safe experience: No sandals, no shorts, no polyester clothing, long hair must be tied back. We provide all glazing and firing materials and supplies, gloves, tongs, and all safety gear.


Fees: $800 minimum covers all of the above. Firing session can be extended beyond the 5 hours. Each additional hour of firing time beyond 5 hours is $75.
Scheduling: Weekdays only and workshops must be completed by 5 PM. Call for availability and scheduling.
Advanced and more comprehensive and extensive Raku workshops can be scheduled with our founder and Raku Master Steven Branfman. Please inquire.
Kids Workshops - Pottery Parties
Kids Parties:If you live in the Needham, MA area, we can come to you for a fun pottery birthday party! Parties can be arranged for all ages, including mixed ages. We will provide a teacher, tools, and materials for an hour of handbuilding. The project will be based on the ages of the participants. After the party, we will carefully dry, bisque, glaze, and glaze fire your work. Pieces are generally available for pick-up about a month after the party.
To host a kids party, you need an appropriate workspace where we can get a little messy. We will need a sturdy washable table and seating and water nearby for handwashing and cleanup. The floor should be washable as well (no carpets, please). Some spaces that work well are kitchens, porches, decks, garages, or outside at a picnic table in nice weather.
Upcoming Members-Only Workshops
Our monthly members-only workshops are presented exclusively for Potters School Studio Members and are free of charge. Only our monthly studio member Raku firings carry a firing fee. Please see our Membership page for more information on studio membership. There is a category for you!
**Workshops my be canceled due to lack of enrollment. Please call first before coming down to confirm the workshop is still on!
For a more detailed description of each workshop, visit the
WORKSHOP PAGE
!
To learn more about becoming a member to have access to our workshops, visit the MEMBERSHIP PAGE!
Up coming and past
Events and Workshops!
----------------------------------------------------
Studio Member Workshops are open & free of charge to all current studio members and students. Please note: Workshops will be cancelled due to severe weather or lack of interest. If you plan on attending a workshop please email us an RSVP as soon as possible. Thank You!
-------------------------------------------------------------------------------
Lids.....The Final Frontier
High ranking and esteemed staff member Sarah Whitlock demonstrated the fine art of making lids. If you would like to improve your lid making technically, aesthetically, and functionally, Sarah is a master. Becoming adept at lids will improve and extend your skills at everything you do on the wheel. You can also be able to apply her demonstrations to hand building.
--------------------------------------------------------------
Get ready for the annual
Bowl-a-Thon Glazing Evening
Next Bowl-a-Thon TBD
Be on the lookout for more information about how you can help participate in this annual tradition.
For Studio Members

------------------------------------------------------------
Terra Sigillata/Saggar Firing
with Shamai Gibsh
Master Potter and Teacher Shamai Gibsh. Shamai's work with terra sigillata and saggar firing in known throughout the world through his workshops and exhibitions. His recent book Terra Sigillata Smoke Fire & Clay is the definitive book on the method and technique.
Stay tuned for Shamai's next workshop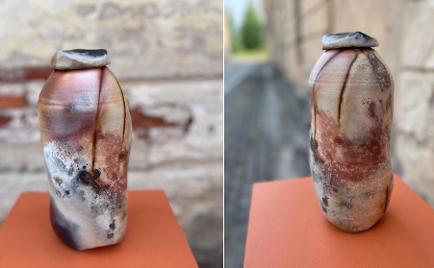 Past Members-Only workshops have included:
Woodfiring at Noble and Greenough School

Kiln Info and Care with Steve

Branfman

Making Handbuilt Aka(red) Raku Chawan with John Baymore

Oxides with Sarah Fuhro

Screen Printing on Clay with Karen Mahoney

Feet of Pots with Sarah Whitlock

Raku with Debbie Winnick

Slip Trailing with Jayne Raphael

Low-fire Techniques with Karen Mahoney

Big Birds: Thrown and Altered Sculpture with Sarah Whitlock

Bottle Workshop with Steve Branfman

Group Critique with Jaye Richards

The Air in There: Closed Forms with Sarah Whitlock