Steven Branfman wears many hats. His work for over 35 years as a studio potter, along with his experience in business, marketing, studio design and management, writing, and teaching are all areas that he actively shares with his audience and students. He is a popular workshop presenter having done over 150 workshops all over the USA as well as Canada, Mexico, Virgin Islands, and throughout central Europe. He has been an NCECA Conference Presenter five times and Potters Council Regional Conference Presenter three times. An individual will not leave one of his workshops or slide talks without a new perspective or having picked up at least a tip or two! You might even hear a bicycle touring, soccer, or skiing story! Through his relaxed, friendly, and informal style, Steven can share his knowledge and experiences with your group.
Workshops cover the approaches, methods, and techniques that Steven has been developing over his long career and that he is well known for. They are tailored to the experience level o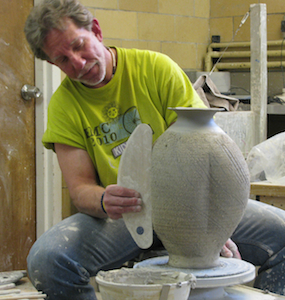 f the participants and can range from an evening slide presentation and discussion, to a week long master class. One or two day workshops can be non-participatory demonstrations, offer limited participation, or full participation in pottery forming and raku firing. Topics that can be covered include the following areas of his expertise:
Throwing and Surface Treatment: Demonstration of a variety of throwing techniques including; throwing off the hump, throwing large forms, coil and throw and large platter forms. Texturing and surface manipulation using various tools and objects, inlaying colored glass, expanding forms from the inside, (one handed shaping) the application of dry clays to wet surfaces and more are all covered. Final trimming with and without chucks is demonstrated. Clay bodies and materials are discuss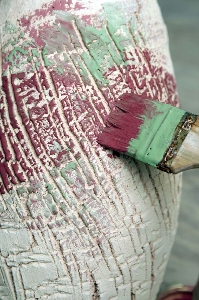 ed and recipes are shared.
Glazing: Demonstration of a variety of glazing methods including controlled pouring, dipping, brushing, layering, resist. Discussion of raku glaze types and use, overlapping maturing temperatures, use of high and low fire glazes, commercial glazes, underglaze, overglaze, slip resist.
Raku Firing: Basic as well as more complex firing techniques can be presented covering a complete repertoire o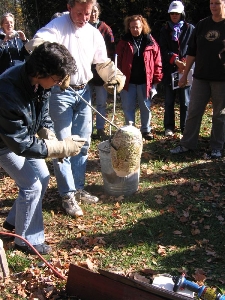 f the Raku process. Kiln stacking styles, combustion theory, kiln control and atmospheric manipulation, firing cycle and speed, recognizing and controlling glaze melting and maturity, various removal methods, restacking, and more. A variety of post firing techniques and approaches are discussed and demonstrated techniques including different smoking methods, reduction container choices, naked clay, controlled cooling, fuming, and more.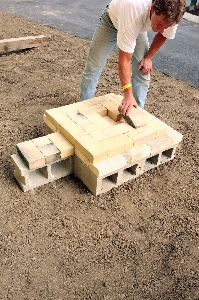 Raku Kiln Construction: Theory, design, building techniques, tools, combustion systems, fuel, and actual kiln construction can be a stand alone workshop or can be integrated into a complete presentation.
For more information including workshop fees and expenses, or to schedule a workshop please contact Steven directly at the studio; 781/449 7687 or via email at Sbranfpots@aol.com